Chocolate D'Luxe by Bliss introduces its Afternoon Tea Experience
A warm afternoon at Chocolate D'luxe by Bliss in UB city saw eminent women of Bangalore enjoying themselves over tea and conversation. This delicious event was hosted in association with Urban Diaries.
Bliss Chocolates has been dedicated to crafting high end couverture chocolates since its inception in 2009. These chocolates are all skillfully handcrafted by their talented team of chocolatiers, where each piece of chocolate is created with immense love and dedication making it really special. Their range of chocolates are crafted using raw materials that have been sourced from all around the world so that one could experience the best.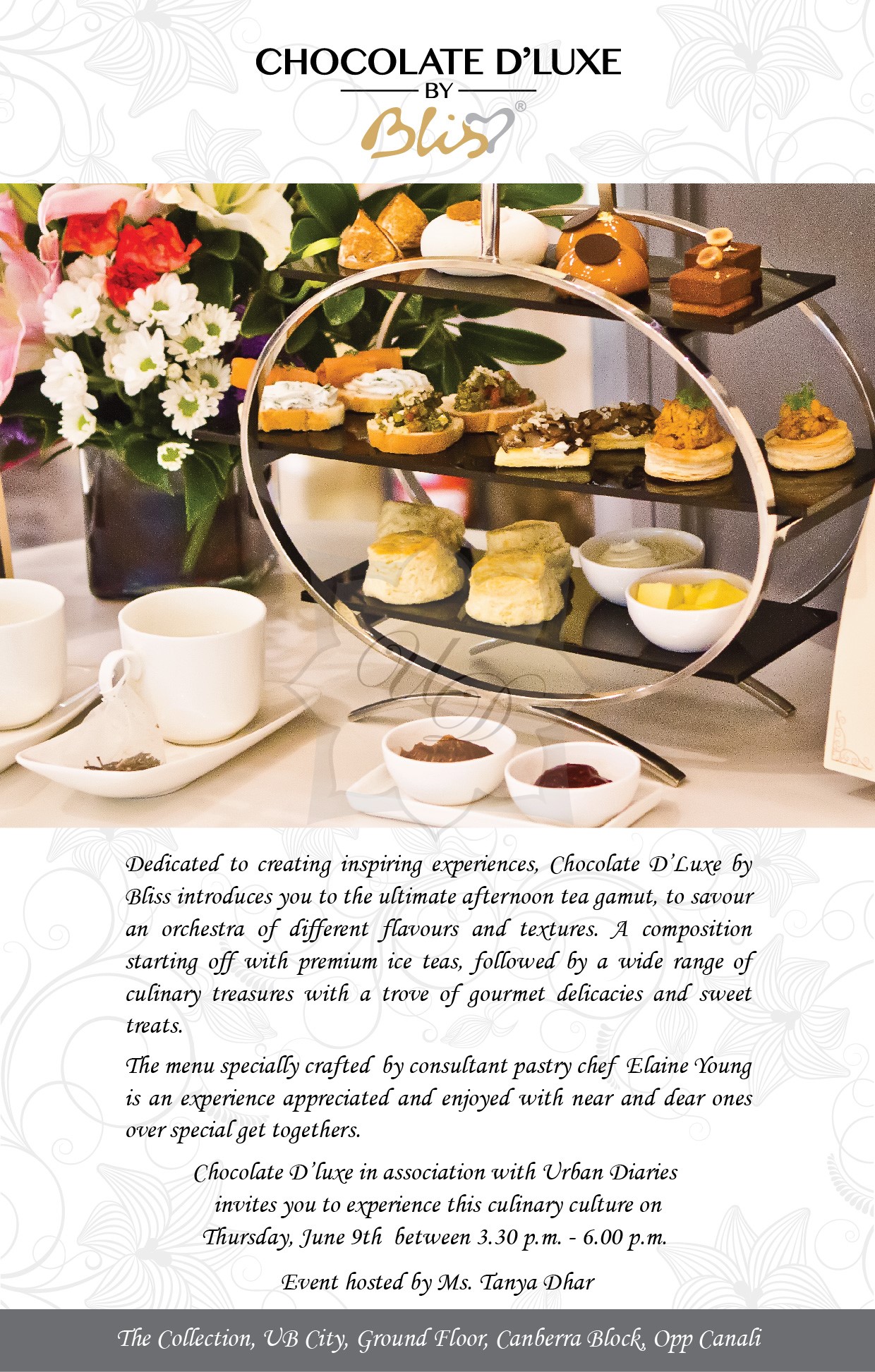 Bliss is not only known for its collection of delicious chocolates but also for their range of luxury cakes and desserts that are all very inviting. Dedicated to creating inspiring experiences, Chocolate D'Luxe by Bliss at UB city introduces its ultimate afternoon tea gamut, to savour an orchestra of different flavours and textures. A composition that starts off with premium ice teas, followed by a wide range of culinary treasures with a trove of gourmet delicacies and sweet treats.
The High Tea Menu
The menu, crafted by consultant pastry chef Elaine Young features a combination of both sweet and savory delights that greet you on a charming high tea stand. The upper row contains dainty sweet treats that are just too hard to ignore. The showstopper of this row is definitely the caramelia that impresses you with its first bite. This cashew croustillant with a honey sponge and caramelized white chocolate mousse intertwines the best flavour and texture.
The savoury delights comprising a combination of bruschetta and vol au vent are next in row to tempt your taste buds. These combinations make sure the flavour and textural experience of the dining arena are encapsulated in the most artistic way. The highlights would be the classic grilled mushroom with sour creme bruschetta and for those with an impeccable taste there is the salmon dill and creme cheese bruschetta.
The last row features the classic scones and jams. These jams are available in interesting flavors like the balsamic vinegar, rose and raspberry and more. These little beauties are going to make their debut in their stores very soon.
With endless conversations the need for aromatic coffee comes into being. And with coffee there is also a need for nibbles like spiced cashews. Thus creating the perfect setting to the afternoon tea experience, which can be enjoyed and appreciated with near and dear ones over endless conversations.
Samriddhi Jain, Ema Trinidad, Sarayu Hegde, Lovely Malhotra and Minku Buttar
Minku Buttar, Vandana Upadhyay, Lovely Malhotra and Shruti Saha
Tanya Dhar, Ema Trinidad and Kanchan Achpal
Anjali Vijayendra, Sonya Suri and Nithya David
Deepa Ramsubramanian, Shruti Saha, Ema Trinidad and Deepa Rao
Tanya Dhar and Sonya Suri
Khushboo Sharma and Rekha Jain
Rekha Jain and Komal Sethia
Preeti Jain, Tanya Dhar, Ekta Gupta and Kanchan Achpal
Kanchan Achpal, Tanya Dhar and Nalini Nanjundayya
Tanya Dhar, Deepa Ramsubramanian and Kanchan Achpal
Tanya Dhar and Charumathi GR
Kanchan Achpal, Tanya Dhar and Pramila Deepam
Anjali, Charu, Nithya, Tanya, Pramila, Vandana, Sonya, Rekha and Komal
The Afternoon Tea is available at:
Chocolate D' Luxe by Bliss at UB city on Fridays, Saturdays, and Sundays
For reservations please call 080 41264925.